Sport and Health Technology
We have several activities in the area of sport and health technology where we both develop the applications and optimise the systems for performance.
This activity is part of the Corpore Sano Centre, a centre for sport and health technology, performing high-impact interdisciplinary research and innovation at the intersection of computer science, sport science, and medicine.
We have for example developed Bagadus, pmSys, Forzify and EIR. Below, you find a brief overview of all these systems.
---
BAGADUS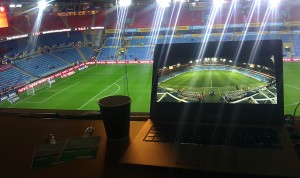 We have developed Bagadus which is a prototype of a soccer analysis application. It integrates a sensor system, soccer analytics annotations and video processing of a video camera array with the main goal to give immediate video feedback to the athletes.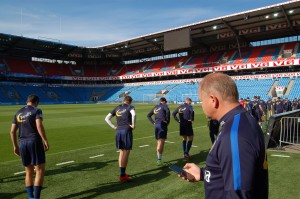 With the BAGADUS prototype, we have integrated a sensor system, soccer analytics annotations and video processing of a video camera array. Bagadus allows a user to automatically play out a tagged (for example using the phone) game event on a display device (like the bog screen on the stadium) or extract a video of events from the statistical player data in real-time. It consists of several sub-systems like player tracking, a notational system and a video camera array generating panoramic videos and extracting virtual cameras. It is currently in use at Alfheim stadium (by Tromsø IL) and Ullevaal stadium (the Norwegian national team).
---
pmSys
pmSys is a performance monitoring system for athletes. The system monitors athletes' training load (RPE – rating of perceived exertion), general wellness and injuries through a subjective questionnaire submitted through an app on the mobile phone. In short, an app running on both iOS and Android devices enables athletes to easily report their data, and they may view their own performance over time. Additionally, there is a trainer web portal where the trainers may visualise the team and/or individual player data, and the system reports basic trends based on the data. Reporting reminders may be sent through push-messages in the app, expected training load may be set by the coaches and there is support for inclusion of some objective data like jumping boards and fitbit wristbands. Thus, individuals may follow their own performance, and team coaches may get an overview of the load and performance of their own team.
pmSys was originally developed in a collaboration between students and researchers at Simula Research Laboratory and University of Tromsø, and ForzaSys. ForzaSys is now responsible for hosting and further developing the system.
---
EIR
Analysis of medical videos for detection of abnormalities and diseases requires both high precision and recall, but also real-time processing for live feedback and scalability for massive population based screening. Existing work on this field do not provide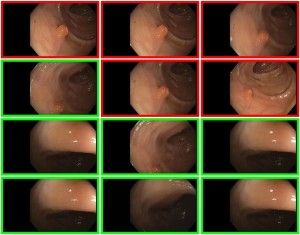 the necessary combination of retrieval accuracy and performance. EIR, which is a multimedia retrieval system aims to tackle automatic analysis of videos from the human gastrointestinal (GI) tract. The system includes the whole pipeline from data collection, processing and analysis, to visualization. It system combines filters using machine learning, image recognition and extraction of global and local image features, and it is built in a modular way so that it can easily be extended. At the same time, it is developed for efficient processing in order to provide real-time feedback to the doctor. The development of EIR is done together with our medical partners from Vestre Viken, Bærum hospital, Cancer Registry of Norway, the Karolinska Hospital, Albert Einstein College of Medicine, Complejo Hospitalario Universitario de A Coruña, Hospital Universitari i Politècnic la Fe and ALTHAIA, Xarxa Assistencial Universitària de Manresa. In this area a strong collaboration between the medical and the computer science field is crucial to be successful. Parts of the EIR system are published open source (https://bitbucket.org/mpg_projects/opensea).
---
Forzify
Forzify is a system which gives the users a social experience for sports. The idea is to boost supporter activity during and beyond the match day as a "spotify", or maybe better a "sportify", system for your favourite sport events. Forzify enables the fans to
see highlights and summaries of games
share and discuss sport events as video playlists
create own events
get recommendations from fellow fans
collect and redistribute favourite sport clips
in a social experience. Thus, search for your favourite game happenings, see your video compositions made by your friends, and let the system present and recommend the most played and "liked" events from the previous week – in the order you want…
---
INTROMAT
INtroducing personalized TReatment Of Mental health problems using Adaptive Technology (INTROMAT) will take the MPG Multimedia Systems into the domain of mental health care. Our role in the project is to oversee the development of multimedia-based treatment modules for 5 cases:
Relapse prevention for bipolar disorder
Cognitive training in Attention Deficit Hyperactivity Disorder (ADHD)
Job-focused treatment for depression in adults
Early intervention and treatment for social anxiety disorder in adolescents
Psycho-social support for women recovering from gynecological cancer.
We will evaluate the efficacy of the technology based treatment modules and conduct research on the multimedia systems aspects of the technology application.
Contacts for the INTROMAT project at MPG: Iffat Ahmed, Andreas Petlund and Carsten Griwodz