Bagadus
BAGADUS
We have developed Bagadus which is a prototype of a soccer analysis application. It integrates a sensor system, soccer analytics annotations and video processing of a video camera array.
Our group has for a long time developed solutions for video processing and delivery. With the BAGADUS prototype, we have integrated a sensor system, soccer analytics annotations and video processing of a video camera array. Bagadus allows a user to automatically play out a tagged game event or extract a video of events from the statistical player data in real-time. It consists of several sub-systems.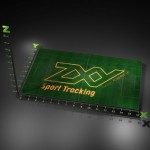 The ZXY sport tracking system requires each athlete to wear a sensor belt around his or her lower torso. In addition to positional data, the belt includes an accelerometer that registers body movements in all 3-directional axes, a gyro, a heart-rate sensor and a compass. Thus, this component can provide statistics about movements, distance ran, accelerations, directions, sprints, etc., and of course also correlations between these metrics.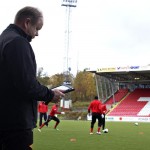 The Muithu sub-system is a notational analysis system that is non-invasive for the users, mobile and light-weight. A cellular phone or a tablet is used by head coaches during practice or games for annotating important performance events.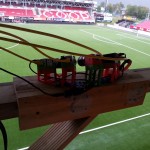 The video camera array provides live video footage. The system has both individual cameras and creates high-resolution panorama videos. Indivudual users can for example zoom and pan into the panorama in real-time.
These components are then synchronized and processed to extract events and deliver video summaries to different types of users, ranging from soccer analytic experts to traditional fans at the stadium or at home.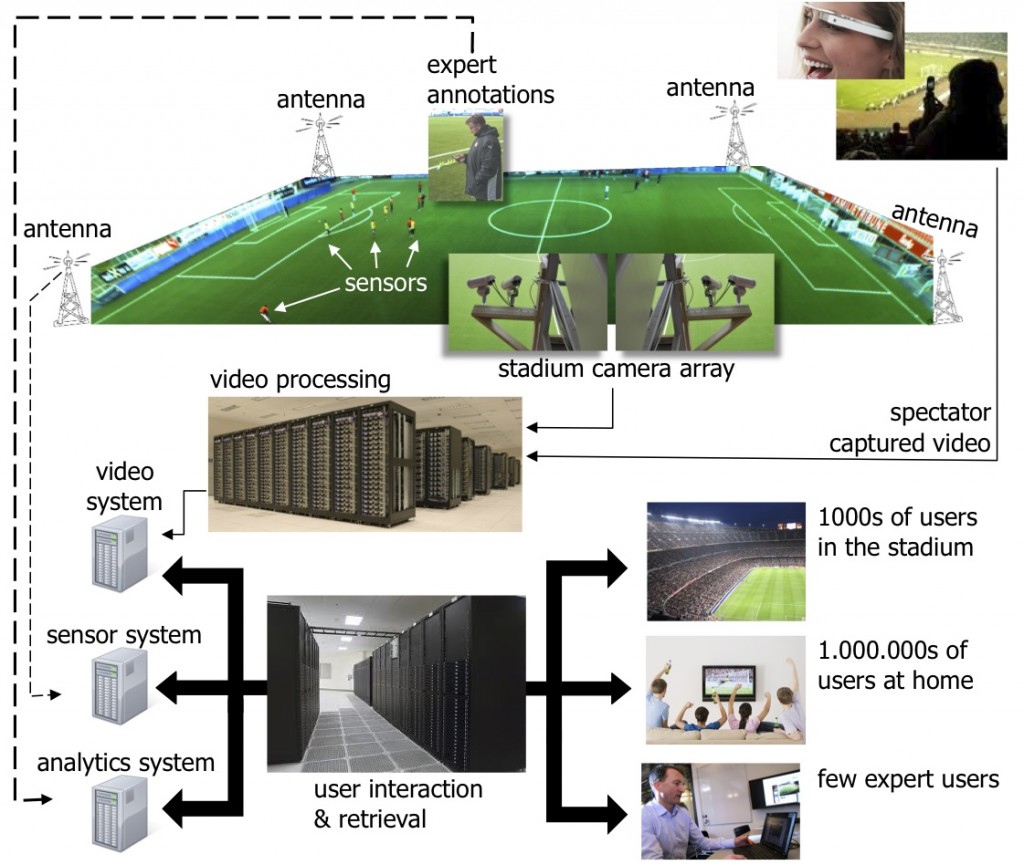 The combination of these components into one system gives new opportunities which for other system require large amounts of manual labour. For example, we can during the break directly play out events tagged by the coaches or game analytic personel. We can live follow individual players translating sensor positions into video pixels. We can automatically create video summaries using the video and sensor data, e.g., "show me all the events where player X is in the 18-yard box in the second half".
There exist many systems for soccer analytics, but as far as we know, Bagadus is the first to fully integrate everything into one system with real-time event extraction and playout. The prototype is currently installed at Alfheim Stadium in Norway, and it has received a lot of attention, both nationally and internationally. The system is the result of the collaboration in the iAD SFI with University of Tromsø, ZXY Sport Tracking and Tromsø Idrettslag.
Selected publications:
"Crowdsourcing as Self Fulfilling Prophecy: Influence of Discarding Workers in Subjective Assessment Tasks",
Michael Riegler, Vamsidhar Reddy Gaddam, Martha Larson, Pål Halvorsen, Carsten Griwodz, Proceedings of the International Workshop on Content-based Multimedia Indexing (CBMI), Bucharest, Romania, June 2016 [pdf]
"An Experimental Evaluation of Debayering Algorithms on GPUs for Recording Panoramic Video in Real-time",
Ragnar Langseth, Vamsidhar Reddy Gaddam, Håkon Kvale Stensland, Carsten Griwodz, Dag Johansen, Pål Halvorsen, International Journal of Multimedia Data Engineering and Management (IJMDEM), Vol. 6, No. 3, 2015, pp. 1-16 [DOI: 10.4018/ijmdem.2015070101]
"Using a Commodity Hardware Video Encoder for Interactive Applications",
Håkon Kvale Stensland, Martin Alexander Wilhelmsen, Vamsidhar Reddy Gaddam, Asgeir Mortensen, Ragnar Langseth, Carsten Griwodz, Pål Halvorsen, International Journal of Multimedia Data Engineering and Management (IJMDEM), Vol. 6, No. 3, 2015, pp. 17-31
"Tiling of Panorama Video for Interactive Virtual Cameras: Overheads and Potential Bandwidth Requirement Reduction",
Vamsidhar Reddy Gaddam, Hoang Bao Ngo, Ragnar Langseth, Carsten Griwodz, Dag Johansen, Pål Halvorsen, Proceedings of the International Packet Video Workshop (PV), Cairns, Australia, May/June 2015 [pdf]
"The Cameraman Operating My Virtual Camera Is Artificial: Can The Machine Be As Good As A Human?",
Vamsidhar Reddy Gaddam, Ragnhild Eg, Ragnar Langseth, Carsten Griwodz, Pål Halvorsen, ACM Transactions on Multimedia Computing, Communications and Applications (TOMM), Vol. 11, No. 4, April 2015, Article no. 56 [pdf] [DOI: 10.1145/2744411]
"Scaling virtual camera services to a large number of users" (demo),
Vamsidhar Reddy Gaddam, Ragnar Langseth, Håkon Kvale Stensland, Carsten Griwodz, Dag Johansen, Pål Halvorsen, Proceedings of the ACM Multimedia Systems Conference (MMSys), Portland, OR, USA, March 2015, pp. 93-96 [pdf] [DOI: 10.1145/2713168.2713189]
"An Evaluation of Debayering Algorithms on GPU for Real-Time Panoramic Video Recording",
Ragnar Langseth, Vamsidhar Reddy Gaddam, Håkon Kvale Stensland, Carsten Griwodz, Pål Halvorsen, Proceedings of the IEEE International Symposium on Multimedia (ISM 2014), Taichung, Taiwan, December 2014 [pdf]
"Using a Commodity Hardware Video Encoder for Interactive Video Streaming" (short),
Martin Alexander Wilhelmsen, Håkon Kvale Stensland, Vamsidhar Reddy Gaddam, Asgeir Mortensen, Ragnar Langseth, Carsten Griwodz, Pål Halvorsen, Proceedings of the IEEE International Symposium on Multimedia (ISM 2014), Taichung, Taiwan, December 2014 [pdf]
"Automatic Real-Time Zooming and Panning on Salient Objects From a Panoramic Video" (demo),
Vamsidhar Reddy Gaddam, Ragnar Langseth, Håkon Kvale Stensland Carsten Griwodz, Pål Halvorsen, Øystein Landsverk, Proceedings of the ACM International Conference on Multimedia (ACM MM), Orlando, FL, USA, November 2014, pp. 725-726 [pdf]
"Real-Time HDR Panorama Video" (short),
Lorenz Kellerer, Vamsidhar Reddy Gaddam, Ragnar Langseth, Håkon Kvale Stensland, Carsten Griwodz, Dag Johansen, Pål Halvorsen, Proceedings of the ACM International Conference on Multimedia (ACM MM), Orlando, FL, USA, November 2014, pp. 1205-1208 [pdf]
"Processing Panorama Video in Real-time"
Håkon Kvale Stensland, Vamsidhar Reddy Gaddam, Marius Tennøe, Espen O. Helgedagsrud, Mikkel Næss, Henrik Kjus Alstad, Carsten Griwodz, Pål Halvorsen, Dag Johansen, International Journal of Semantic Computing, Vol. 8, No. 209, September 2014 [pdf] [DOI: 10.1142/S1793351X14400054]
"Performance and Application of the NVIDIA NVENC H.264Encoder" (poster),
Martin Alexander Wilhelmsen, Håkon Kvale Stensland, Vamsidhar Reddy Gaddam, Pål Halvorsen, Carsten Griwodz, Web-site of the GPU Technology Conference, San Jose, CA, USA, March 2014 [pdf, web-site]
"Soccer Video and Player Position Dataset",
Svein Arne Pettersen, Dag Johansen, Håvard Johansen, Vegard Berg-Johansen Vamsidhar Reddy Gaddam, Asgeir Mortensen, Ragnar Langseth, Carsten Griwodz, Håkon Kvale Stensland, Pål Halvorsen, Proceedings of the International Conference on Multimedia Systems (MMSys), Singapore, March 2014, pp. 18-23 [pdf] [DOI: 10.1145/2557642.2563677]
"Be Your Own Cameraman: Real-Time Support for Zooming and Panning into Stored and Live Panoramic Video",
Vamsidhar Reddy Gaddam, Ragnar Langseth, Håkon Kvale Stensland, Pierre Gurdjos, Vincent Charvillat, Carsten Griwodz, Dag Johansen, Pål Halvorsen, Proceedings of the International Conference on Multimedia Systems (MMSys), Singapore, March 2014, pp. 168-171 [pdf] [DOI: 10.1145/2557642.2579370]
"Automatic Event Extraction and Video Summaries From Soccer Games",
Asgeir Mortensen, Vamsidhar Reddy Gaddam, Håkon Kvale Stensland, Carsten Griwodz, Dag Johansen, Pål Halvorsen, Proceedings of the International Conference on Multimedia Systems (MMSys), Singapore, March 2014, pp. 176-179 [pdf] [DOI: 10.1145/2557642.2579374]
"Automatic exposure for panoramic systems in uncontrolled lighting conditions: a football stadium case study", Vamsidhar Reddy Gaddam, Carsten Griwodz, Pål Halvorsen, Proceedings of the SPIE/IS&T Electronic Imaging – the Engineering Reality of Virtual Reality, San Francisco, CA, USA, February 2014 [pdf] [DOI: 10.1117/12.2040145]
"Bagadus: An Integrated Real-Time System for Soccer Analytics",
Håkon Kvale Stensland, Vamsidhar Reddy Gaddam, Marius Tennøe, Espen Helgedagsrud, Mikkel Næss, Henrik Kjus Alstad, Asgeir Mortensen, Ragnar Langseth, Sigurd Ljødal, Øystein Landsverk, Carsten Griwodz, Pål Halvorsen, Magnus Stenhaug, Dag Johansen,  Transactions on Multimedia Computing, Communications and Applications (TOMCCAP), 2014 [pdf]
"Efficient Implementation and Processing of a Real-time Panorama Video Pipeline",
Marius Tennøe, Espen Helgedagsrud, Mikkel Næss, Henrik Kjus Alstad, Håkon Kvale Stensland, Vamsidhar Reddy Gaddam, Dag Johansen, Carsten Griwodz, Pål Halvorsen, Proceedings of the International Symposium on Multimedia (ISM), Anaheim, CA, USA, December 2013 [pdf]
"Combining Video and Player Telemetry for Evidence-Based Decisions in Soccer",
Håvard D. Johansen, Svein Arne Pettersen, Pål Halvorsen, Dag Johansen, Proceedings of the International Congress on Sports Science Research and Technology Support (icSPORTS), Algarve, Portugal, September 2013 [pdf]
"Bagadus: An Integrated System for Arena Sports Analytics – A Soccer Case Study",
Pål Halvorsen, Simen Sægrov, Asgeir Mortensen, David K. C. Kristensen, Alexander Eichhorn, Magnus Stenhaug, Stian Dahl, Håkon Kvale Stensland, Vamsidhar Reddy Gaddam, Carsten Griwodz, Dag Johansen, Proceedings of the International Conference on Multimedia Systems (MMSys), Oslo, Norway, February/March 2013, pp. 48-59 [pdf] [YouTube]
"BAGADUS: An Integrated System for Soccer Analysis (Demo)",
Simen Sægrov, Alexander Eichhorn, Jørgen Emerslund, Håkon Kvale Stensland, Carsten Griwodz, Dag Johansen, Pål Halvorsen, Proceedings of the International Conference on Distributed Smart Cameras (ICDSC), Hong Kong, October/November 2012 [pdf]
Below is a YouTube-video of our first demo:

An example of the new full HD smooth motion created from 5 2k cameras: