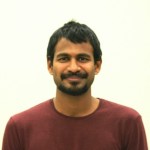 On Thursday 2 June, Vamsidhar Reddy Gaddam defended his PhD thesis "Next Generation Broadcasting System for Arena Sports: A Football Stadium Scenario". Vamsi has worked on the Bagadus system which is used at the Alfheim and Ullevaal stadiums.
Read more info from the university and from Simula. The PhD thesis can be found here.
Vamsi is currently an engineer in the Media Processing Group at ARM focusing on mobile graphics.